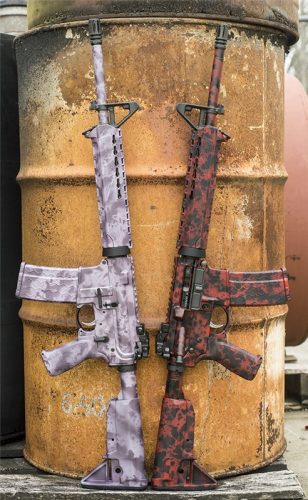 You could win a pair of "His and Hers" AR-15s, and it's for a great a cause. The Springfield Armory is auctioning off two custom Saint rifles by XDMAN, with all benefits going to military and first responder families through the Chris Kyle Frog Foundation:
The red and black rifle features a KG Gunkote with two-color ghosting effect. It offers a tactical appearance with modern-day red and black camouflage pattern. The second Saint blends a base coat of silver and pink coatings to create a lilac background, while the splatter effect uses titanium and purple for a metallic sheen when exposed to light.
Both rifles come with matching Hexmag Series 2 magazines as well as the original, unaltered Magpul 30-round mags. Should the winning bidder come from a restrictive state, an alternate compliant magazine will be provided.
Gunsmith James Nicholas designed the rifles:
"I was intrigued by the idea of customizing his and hers rifles with consecutive serial numbers," Nicholas said in a statement. "The splatter coat technique has been our most popular finish, and I wanted to highlight the Valentine's Day timing of this fundraiser with carefully chosen colors. I think the result is something really special."
The auction began Feb. 14 and will run through Feb. 28. You can place your bid at Gunbroker.