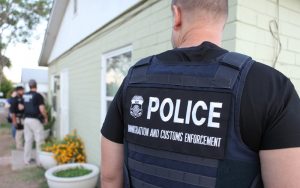 Do Dreamers have constitutional rights? The court-ruled answer to that question could have major ramifications for President Trump's immigration policies.
Daniel Ramirez is a 23-year-old illegal who was approved twice under Obama's 2012 deportation amnesty program, Deferred Action for Childhood Arrivals (DACA). However, last week he was detained in a raid to arrest his father — an eight-times deported illegal — and is now awaiting deportation himself.
But Ramirez's lawyers argue that, "As a Dreamer, Mr. Ramirez has constitutional rights that deserve to be protected":
At issue are competing visions of Mr. Obama's 2012 program. When it was created, Homeland Security characterized DACA as discretionary and revocable at any time, based on officers' judgments.
But Mark D. Rosenbaum, one of Mr. Ramirez's lawyers, said DACA is actually a "solemn promise" to illegal immigrants that if they turned over their information to the government, they would not be "arbitrarily and capriciously arrested and detained."
He said the government has botched the case from its initial arrest up through now, with Mr. Ramirez still in custody and awaiting a deportation hearing.
"What began, I thought, as a mistake in bringing Daniel in has turned into a bogus operation that is attempting to railroad him and violate the sacred promise that the DACA program represents," Mr. Rosenbaum said.
Immigrants with green cards have constitutional rights. If the court rules the DACA program is like the green card program, 740,000 illegals who registered for Obama's amnesty program could be given constitutional rights. Lawyers may also argue the Constitution extends protections to "people," while reserving privileges, such as serving in Congress or as President to "citizens."
Also at issue are Ramirez's alleged gang connections:
Homeland Security has said that Mr. Ramirez lost his ability to be part of DACA because of his gang affiliations.
The government says Mr. Ramirez not only had a gang tattoo, but said he admitted he used to "hang out" with the Sureno gang in California, fled that state to get away from gangs, but still "hangs out" with the Paizas gang in Washington.
Mr. Rosenbaum flatly rejected those claims, saying the DACA application process Mr. Ramirez has gone through twice before included checks of gang affiliations, and he was not flagged either time.
In a statement issued this week, Homeland Security said that some 1,500 illegals who had been approved under DACA have been later ousted from the program because of a criminal conviction or gang-related activities.