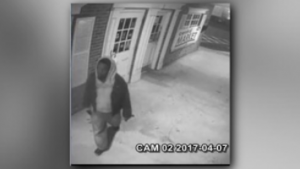 We have to stay vigilant. There are creeps out there who try to set up innocent people and media all too happy to fall for their wiles.
Earlier this month, an immigrant-owned grocery store in Charlotte, North Carolina, was set ablaze in an apparent hate crime. The perpetrator left behind a disturbing note signed "White America":
"We need to get rid of Muslims, Indians and all immigrants," it read. "This is our warning. Leave the business and go back where you came from. If you don't follow this warning then we are not responsible for the torture starting now. God Bless America … White America."
The owner of the store, an immigrant from Bhutan, was rightly scared for his life. Meanwhile, the media assumed the arson was the work of brazen white supremacists.
However, when police reviewed security camera footage they discovered that the suspect was black:
CMPD says surveillance video of the incident was recovered and that it showed a black male suspect, who is approximately 5-foot-8, around 200 pounds, and has a short afro and goatee. The suspect was seen wearing a gray hoodie under a black coat with light jeans and black shoes.
Sure enough, 32-year-old Curtis Flournoy was arrested and charged with the crime:
Mr. Flournoy was reportedly charged with burning a building of trade, malicious damage by use of an incendiary material, felony breaking and entering, ethnic intimidation and anonymous or threatening letters.
It was his seventh time being arrested in Mecklenburg County since 2014, NBC reported.
Another so-called "hate crime" debunked.