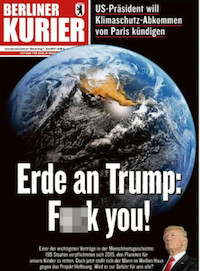 In the aftermath of the Trump decision to reverse Obama's Executive Action on the Paris Agreement, Europe has exploded. This German magazine cover says "Earth to Trump: F**k you!"
Because this President did what he promised to do when campaigning.
Because this President and his Cabinet remain unconvinced about the scientific modeling behind the Paris Accord.
Because this President knows that (largely because of Natural Gas development) the US is already way ahead of competitive nations who've been given a pass on the Accord in terms of carbon emissions.
Because this President knows that the whole thing is a wealth distribution scheme designed to take money from first-world countries and give it to third-world countries through a "Carbon Exchange" that's been set up to make rich people richer.
Let's preserve and protect the environment. But let's take the power-play politics, the hysteria, the phony science, the corruption and the Marxism out of our efforts.
No one seems to care that the Paris Accord is technically a Treaty and should only have been passed by the Senate.
The Paris Agreement has a 'bottom up' structure in contrast to most international environmental law treaties which are 'top down', characterised by standards and targets set internationally, for states to implement. Unlike its predecessor, the Kyoto Protocol, which sets commitment targets that have legal force, the Paris Agreement, with its emphasis on consensus-building, allows for voluntary and nationally determined targets.
The specific climate goals are thus politically encouraged, rather than legally bound. Only the processes governing the reporting and review of these goals are mandated under international law. This structure is especially notable for the United States—because there are no legal mitigation or finance targets, the agreement is considered an "executive agreement rather than a treaty". This was a fudge, Obama knew he'd never get it through the Senate. Because the UNFCCC treaty of 1992 received the consent of the Senate, it was set up that the Paris Accord did not require further legislation from Congress for it to take effect.
Everyone has forgotten that Obama circumnavigated the Senate through Executive Action to bring the US to the Paris Agreement. Trump has merely reversed this misuse of executive power.
And what everyone is overlooking is HE TOLD THEM HE WOULD DO THIS!! He is actually carrying out a campaign promise. How can anyone be surprised?
Former New York mayor and billionaire Michael Bloomberg is so appalled he's offered up to $15 million of his own money to support the operations of the UN Framework Convention on Climate Change (UNFCCC) Executive Secretariat, including its work to help countries implement their commitments under the 2015 Paris Agreement on climate change. This would replace some of the money President Trump has taken off the table.
The leaders of France, Germany and Italy issued a joint statement saying they regretted Mr Trump's decision to pull out of the agreement, which was designed "to avoid catastrophic levels of climate change fuelled by human activity." 
In an English-language speech from the presidential palace, unprecedented from a French president in an address at home, Mr Macron said: "I do respect this decision but I do think it is an actual mistake both for the US and for our planet."
The UK Prime Minister, Theresa May, said she had phoned the President to express her "disappointment" at the decision.
Meanwhile back at home, US Mayors who have already committed to the Paris obligations wrote an angry letter promising to follow through.
As the whole Accord was set up to be voluntary and self-regulated it's perfectly OK that it's left to voters in local communities to decide whether they will remain involved. It was not OK that the head of the government decided for everyone.
187 US Climate Mayors commit to adopt, honor and uphold Paris Climate Agreement goals
STATEMENT FROM THE CLIMATE MAYORS IN RESPONSE TO PRESIDENT TRUMP'S WITHDRAWAL FROM THE PARIS CLIMATE AGREEMENT
Thursday, June 1st 2017
The President's denial of global warming is getting a cold reception from America's cities.
As 150 US Mayors representing 47 million Americans, we will adopt, honor, and uphold the commitments to the goals enshrined in the Paris Agreement. We will intensify efforts to meet each of our cities' current climate goals, push for new action to meet the 1.5 degrees Celsius target, and work together to create a 21st century clean energy economy.
We will continue to lead. We are increasing investments in renewable energy and energy efficiency. We will buy and create more demand for electric cars and trucks. We will increase our efforts to cut greenhouse gas emissions, create a clean energy economy, and stand for environmental justice. And if the President wants to break the promises made to our allies enshrined in the historic Paris Agreement, we'll build and strengthen relationships around the world to protect the planet from devastating climate risks.
The world cannot wait — and neither will we.
Signed,
The list of mayors who signed the document includes:
Mayor Eric Garcetti
City of Los Angeles
Mayor Martin J Walsh
City of Boston
Mayor Bill de Blasio
New York City
Mayor Sylvester Turner
City of Houston, Texas
Mayor Madeline Rogero
City of Knoxville, Tennessee
Mayor Rahm Emanuel
City of Chicago
Mayor Ed Murray
City of Seattle
Mayor Jim Kenney
City of Philadelphia
Mayor Kasim Reed
City of Atlanta
According to CNN, the governors who have vowed to honor the Paris Accord are:
Charlie Baker, Massachusetts
Jerry Brown, California
Kate Brown, Oregon
Andrew Cuomo, New York
John Hickenlooper, Colorado
David Y. Ige, Hawaii
Jay Inslee, Washington
Dannel P. Malloy, Connecticut
Terry McAuliffe, Virginia
Gina M. Raimondo, Rhode Island