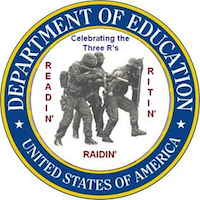 We live in a dangerous world.
Over a nearly two-year period, the last years of the Obama administration (FY2015 – FY2016), Homeland Security and the Department of Justice spent $138 million on new guns and ammunition. That seems reasonable.
What's curious, however, is that traditionally administrative agencies spent more than $20 million. Four notable examples:
The 2,300 Special Agents at the Internal Revenue Service (IRS) are allowed to carry AR-15's, P90 tactical rifles, and other heavy weaponry. Recently, the IRS armed up with $1.2 million in new ammunition. This was in addition to the $11 million procurement of guns, ammunition, and military-style equipment procured between 2006-2014.
The Small Business Administration (SBA) spent tens of thousands of taxpayer dollars to load its gun locker with Glocks last year. The SBA wasn't alone – the U.S. Fish and Wildlife Service modified their Glocks with silencers.
The Department of Veterans Affairs (VA) has a relatively new police force. In 1996, the VA had zero employees with arrest and firearm authority. Today, the VA has 3,700 officers, armed with millions of dollars' worth of guns and ammunition including AR-15's, Sig Sauer handguns, and semi-automatic pistols.
Meanwhile, Department of Health and Human Services (HHS) agents carry the same sophisticated weapons platforms used by our Special Forces military warriors. The HHS gun locker is housed in a new "National Training Operations Center" – a facility at an undisclosed location within the DC beltway.
There's a lot more…  guns and ammo (including hollow points outlawed by the Geneva Convention) spending included the Department of Education, Agriculture, Environmental Protection Agency, Social Security Administration, and other federal administrative agencies purchasing guns and ammunition. Total guns and ammo spending by 58 non-military federal agencies amounts to $158 million.
Last year, on the editorial page of The Wall Street Journal, in a co-authored piece with Dr. Tom Coburn titled "Why Does the IRS Need Guns?" we launched our comprehensive oversight report. Read our full report here.
Today, we've updated the numbers on the rank-and-file federal agencies purchasing guns and ammunition at Forbes, and the continued growth of the federal arsenal begs the question: Just who are the feds preparing to battle?
Read the entire Forbes editorial, Why Are Federal Bureaucrats Buying Guns and Ammo? $158 Million Spent by Non-Military Agencies.